The final day of the year! About time. I've decided to do something special with this months dev log. As always I'll discuss what I've been up to and any upcoming plans. But since this is the end of 2020 it only seems right to briefly reflect on everything I've been up to over the year, let's get to it…
Previous Goals
Last month my only goals were to update Don't Drop Dan, which I haven't stopped doing since the last post. And there's still more to come! I'll go over what I worked on this month then look at the rest of the year.
Version 1.1 –
After release it's only natural to get flooded with messages about problems. The main one came when ending the game. A few people accidently ended the game when buying powerups. To counter this I added more feedback, changing the colour of the button on the last press & a delay to prevent spamming. The menu now looks colourful (bonus):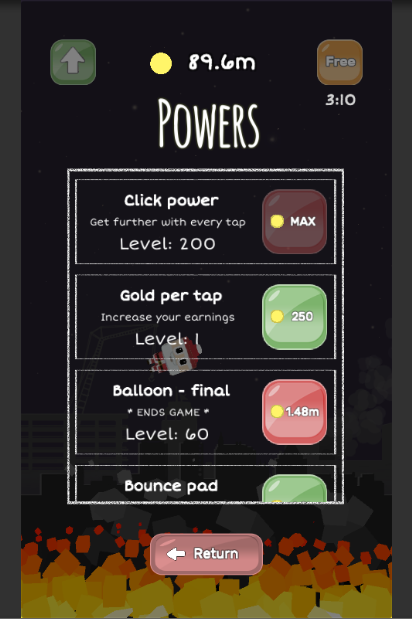 Scores were getting pretty crazy already, it only seemed right to provoke competition. My friend @Tommy held the top score. I created a new costume and to unlock it you must beat the top score, then you get the king:
Scores have now got silly, the top is nearly 100k taps!
Version 1.2 –
The seasonal update (+ a major bug fix). It's December & I'm feeling festive, Dan should be feeling it too! So I added 3 new costumes, all Christmas themed:
Along with two extra challenges, make it snow and save Xmas! But what about the bug? Remember the king costume? That took 43k taps to unlock… Problem was, it would unlock until you reloaded the game. Then it locked again. Why? I made an oopsie, this was in the code, every time you reloaded the game to the main menu:


It was supposed to be up a line, tucked between some nice cosy curly brackets. I quickly figured it out and fixed it. I also added some extra code to check the top score and give the costume back to those that already earned it. Problem avoided. Phew.
Final update –
Over Christmas I've been working on the final update, the big one. There's still a little more to do on this but I'll give you the rundown of what's included:
Collectables – floating coins, free gold!
Challenges – a set of achievements to aim for every game for extra gold
Extra costumes – obviously!
An extra powerup or two (but we'll keep that a secret for now)
Notifications – something new I'm playing with
I wanted this out around the same time as this post, I'm a few days behind due to the holidays but you can expect it soon!
2020
Cluckin' Around
The bulk of my year, and my biggest project so far. I started this project late last year & spent months finishing/updating it. This is where I started:

To where it ended:

A lot of work was put into this project and to be honest I think it shows. It's far from perfect but I'm happy with the way this game turned out and how it performed. I don't think there's much more to say about this game that hasn't already been said in the many previous logs, check them out if you're interested:

Part 1 – Part 2 – Part 3 – Part 4 – Part 5 – Part 6
Egg Ed – update
Egg Ed was last years project, doesn't mean it's been forgotten. Early this year I pushed out a small update, this included this magnificent skin:

And a chicken. Which was of course promotion for Cluckin' Around. Maybe it's time for a 2021 Cluckin' update before I move on to the new stuff… Maybe.
The lost project
Eventually it was time to move on from eggs and chickens, I needed something new. I wanted to jam out a new game, similar to how I created Egg Ed. Why not do it in a group? If you already know the story you know it didn't work out. We got as far as the prototype.
If you want to read more about that project check out this post:

July Dev Diary: Chickens, Mazes & Shaders!

Looking back, I don't think the project itself was too bad, it was heading in the right direction. I think the team could have worked too, but stress got the best of us both and the project had to sadly be abandoned. Lost but not forgotten.
Ed in the clouds
This one will still happen! Ed was going to be my next big project, before Dan took over… I had the prototype, I experimented I even started posting about it, didn't get very far. Why? I got stuck in all honesty. I tried many things to make it look good, even as a draft I wasn't happy. Here's a look at the prototype itself if you haven't seen it:

You can read more about this prototype here: Ed in the Clouds
Don't Drop Dan
And then there was fire… Where did this game come from? Don't ask me. I started with a very simple idea and it went from there. How was I to know this:

Would turn into this:

Didn't do bad I suppose. But hopefully we've all seen the game, if you haven't you're missing out, here's a link to that:
Anyway we've heard about the game enough recently, let's talk performance. The best way is to look at the analytics, here's a look at my games performance on Google Play Store: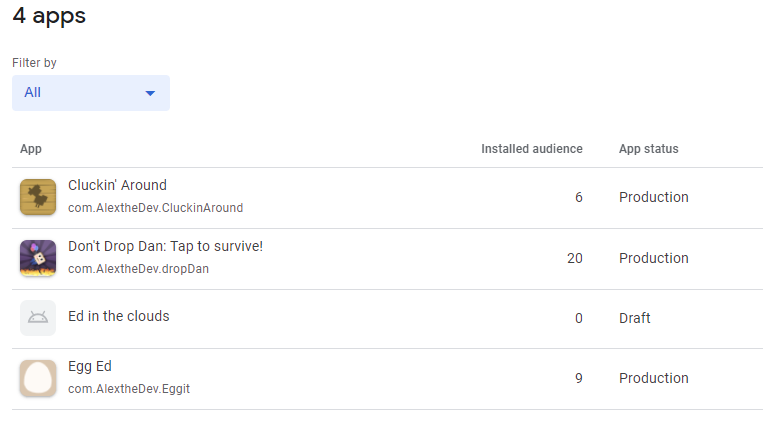 Similar stats for the app store:


It's currently my top performing game, awesome! The stats have been declining recently but that's understandable. Once I release this final update (soon) we will see another small boost which happens after every update, then Don't Drop Dan will be officially done.
Even though this game is currently on top, Cluckin' Around had similar stats when it was first launched. Surprisingly, I think Egg Ed egg-ceeded both games possibly combined. Both have died down a little recently since Dan was released.
However, Egg Ed may have performed better, but personally I feel the feedback from this project has been ridiculous (in the best way). People have certainly put more playtime into this than my other games. Which is always good to know, thank you to every player, I promise to make the last update great!
Socials
I'll make this quick, I've typed so much my fingers are on fire! This time last year, my Twitter had under 3000 followers. I know, I created a special chicken post in January when I hit 3k:
Now we're 4.2k! To me that's amazing, I wouldn't expect half of that, but I'm grateful for every single person there.
I've also focused on Instagram. Which paid off, last year I had 200 followers I'm now at 775. Well that may not seem very high I get more engagement over there since I started (somewhat) posting more.
I also revived my old Facebook page. Since becoming active again it's now approaching a thousand likes! Admittedly, that's mostly family and friends but I'm still incredibly happy with it.
Finally, I started posting short videos to my YouTube channel. Nothing exciting has been posted yet, mostly trailers & random clips but it's quite fun to do and it's give me ideas.
I wanted to start making some interesting gamedev related videos, but lets just say my mic was… well, I'm surprised it even worked. But no more! I now have a half decent mic that should be good quality, I have yet to test it but expect a video soon… & then hopefully many more!
Goals for next year!
I'm quite proud of everything I've done this year, why stop now? Rather than setting goals for next month I want to set goals for next year. Let's look at what I want to do:
Aim to release at least 4 new games (Minimum!)
Increase activity on all social media accounts
Higher involvement in the indiedev community
New YouTube projects (dev logs, tutorials etc.)
Originally I wanted to challenge myself to a game a month, which could be interesting. I still might, but 4 allows me to spend time on each game and have some breaks. Based on what I've managed so far, it seems an achievable realistic goal.
I want to post more on all my accounts and continue growing AlextheDev. Things have been crazy this year and I've only realised now how busy I've been looking back at it. I want to make better games, I want to make more games and I want to connect with more awesome people! Let's make it happen.
Thank you for reading, following and supporting me from the start! 2020 has been a crazy year for everyone, lets hope the new year brings us all some luck.
Until next time…