Is it that time again? I'm a little late with this one but I suppose that's why I call it my (slightly) regular monthly dev log. As always, I'll discuss what I've been up to, what's new & what's next. Let's begin…
What's been happening?
Last month I didn't set any strict goals, I wanted to work on my new project, stress free. We'll go through the little progress I made there but first let's explain the delay.
I've been feeling a little unwell for about a week now. Nothing serious don't worry, but it did keep me in bed for a few days. The worst part was it made my eyes very sensitive, I could barely use my phone let alone a computer without it hurting after a few minutes. I'm only just starting to feel more myself again. Give it a few days I should be back on my feet. Anyway, let's run through the rest of the month.
Progress
The lack of progress
It's not been a great month, I was very low on energy, motivation and everything else I need to keep the coal burning. I could not bring myself to work, and when I did it was very brief work sessions. I'd like to say this only lasted a few days but sadly not, it lasted way longer than I wanted it to. The worst part? When I finally gave myself the push I needed to start again (with the help of some lovely indie-devs on twitter) I began feeling ill. Just my luck.
A little progress
Luckily this didn't stop me entirely, I've managed to squeeze some work in there, even if it is a little less than usual…
The death sequence
This is probably my favourite mechanic out of everything I've worked on so far. It's not crazy complicated it just makes me laugh & I think it adds some level character to the game. In the original prototype you just kind of fell, like this:
Here is what happens now:
Cartoons were my reference, can you tell? It may need refining but I think I've done a good job and currently, it's the best part of the game!
The floor
My next task was to play around with the ground and make it look better. Originally my plan was to create a block out of a few different kinds of environments & spawn them in as you play. But after trying this with just a few blocks, well: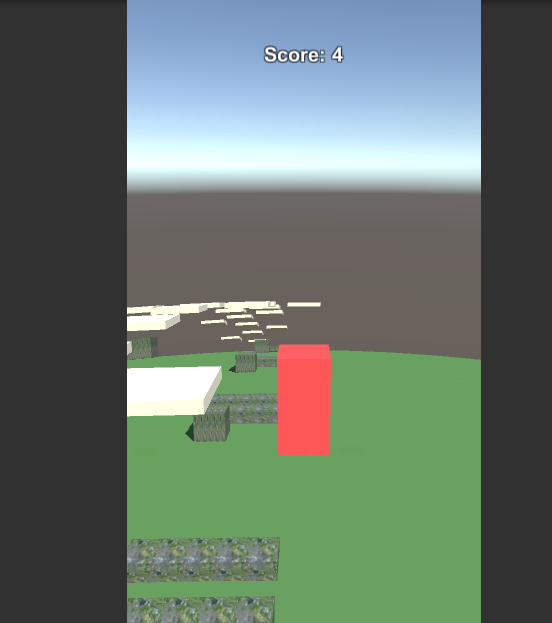 I realised for the effect to work everything would have to be ridiculously small. If that's the case there's no point having a high detailed environment, that would be inefficient. I don't know exactly where my next idea came from but to experiment with adding a world down on the floor, I decided to use Google Maps. To be honest it looks pretty cool:
Hey, I can see my house from there! For many reasons it can't stay that way, it doesn't quite fit the style I'm going for. However, it will be used for reference, I'll be making something a little simpler and more stylised. I have not finished this yet I've been experimenting but hopefully we should see something on my socials soon!
Design
I knew I couldn't work on my computer but what could I do while I'm stuck in bed? After a hours of boredom, I decided to pull out the good ol' pen and paper. For the past few days I've been sketching out floor designs, characters, clouds, mechanics and anything else that came to mind. I even created a new game idea, but we'll save that one for another day, I've got enough work to do at the minute.
Goals for September
I think last month I was way too relaxed with my goals, which helped, I think I needed it. However, I'm very tired of lying in bed doing nothing now, I want to be making games again! So, for this month I'll be setting some more defined goals. Here is what I want minimum by next post:
Finish the floor
Create a skybox/background
Create the cloud asset
Add cloud type storm
Add cloud type large
Collectable + spawning
That should be enough to keep me busy, if I get enough time, I'd like to make a start on the player itself too. But there is a lot to do, we'll see if we can get to that.
Until next time…