Is it that time again? It's the last day of the month, that means I have been summoned to my little corner of the internet for my (slightly) regular monthly dev log. As always, I'll discuss what I've been up to, what's new & what's next. Let's get into it…
Last Months goals
We'll get straight to the point, at the end of last months dev log I set a goal, something I'm going to start doing every month. I wanted to finalise Cluckin' Around, just to be clear that didn't mean publish (I knew I'd fail that), but I did want to have it finished so I could move on to the last few stages (testing, fixing, polishing, publishing).
I'm expecting to spend at least an extra week or two going through that, we don't want any nasty bugs or crashes after all! Without wasting any more words let's break down my progress and see if I hit that goal…
Progress –
Menus
Towards the end of last month I was working on improving pieces of the UI (User Interface) like the chicken counter, everything looked too basic, I mean here's the menu we had:
Since that was the last job I started it only made sense to finish it, I jumped back into the sketchbook to get an idea of layouts & designs. While I was there I ran through some ideas for story mode (but we'll get into that). Then spent the rest of the first week updating every screen. I also added some new things like a continue in endless mode, ads & the settings screen functionality (standard stuff). Here's a look at the continue in action:
As you can see all the game UI has been updated slightly too. I've gone for a pretty basic UI theme but I think it suits the style of my game pretty well and its miles better than standard assets. Here's a look at the new main menu for comparison: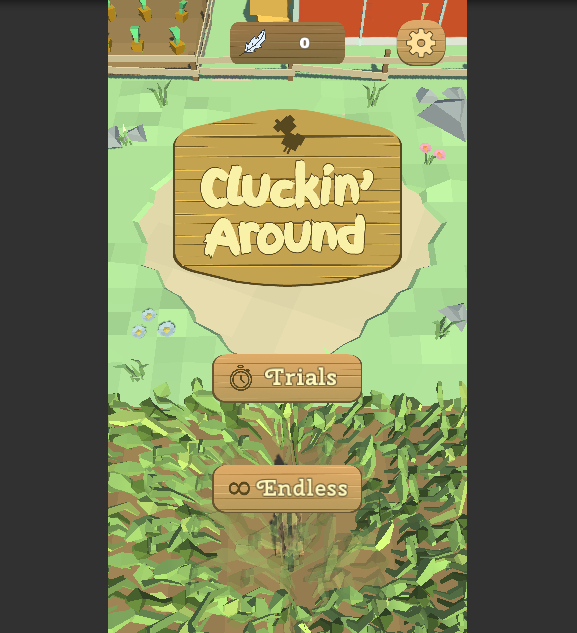 Different levels
This has been the bulk of my month, up until now I've built up a prototype, extended and balanced the gameplay and made things a little prettier to look at. But we've just been looking at the same thing:
I wanted some extra levels, so after a bonus round pops up (every 5 levels) your hyena runs off to a different farm. It also makes piecing together the other game mode a little easier, awesome!
So how did I do it & what did I do? Well to start with I split the level down into a few sections:
The background (top)
The floor
The props (grass, flowers etc.)
Tall grass (bottom)
At first I was only making subtle changes and only editing the top and the props, but I was gradually getting more complicated as I went on. I started with a forest, then I made one by the roadside (I even made some little cars drive by):
After posting these on my socials I promised I'd be a little more creative with the next couple of levels & started making changes to the other sections. Here's a level I haven't posted anywhere else yet my desert/old west level:
As you can see I've made minor changes to everything while trying to remain as consistent as possible. And finally, something I'm pretty proud of, my chicken factory:
I had fun making this one, especially the little chicken conveyor belt at the back. I used a coroutine to handle the effects at the top and for the record made use of object pooling for the chickens and the cars, efficiency first.
Timed mode
That brings us up to this last week, by now I should be finalising everything but I won't lie I fell behind, probably spent a little too much time on the other stuff. I was hoping splitting the game in two and creating an extra game mode would be a pretty easy job (since every mechanic is already created – I just need to make it work in a different way). I was wrong! I'm never any good at guessing how easy a job will be, but at least I'm optimistic!
I started where I always start, planning. Once I had a vague idea what I was doing I added a screen with 25 buttons so I could set up the levels. You can imagine that wasn't the best option so I made everything fit the theme and added a way to scroll through the levels (rather than 25 buttons). Since I've already done scrolling menu's in Egg Ed and a UI carousel in the lost but never forgotten String-Z this part was pretty easy here's the result:
That's sadly as far as I managed to get, I ran into a few problems reworking the game mechanics at first. Still want to add some icons for the level images too, at minimum I want 5 icons (one for each stage). So as you can tell, there's still a few things to do before I can finish this feature.
Endless mode is completely random, it gets progressively harder as it goes along. The number of chickens and when it introduces new mechanics is pretty randomised. Timed mode will instead have set challenges, I'll have more control over whats spawning and when. As I'm posting this log I'm probably working on setting up the remaining levels. Then I'll make some nice icons, hey, if I finish it today it's still technically this month!
March Goals
I want to say I have one goal: publish my cluckin game!!!
Even though we're soooooo close, that's still a pretty big scary goal to set. To make things clearer and easier to compare next time here's what I need to do now:
Finish remaining game features (sound, timed levels, leaderboard)
Create publishing assets (Icon, Screenshots etc.)
Prepare store pages (+ game page on my site)
Test, Test, Test (Android)
Test, Test, Test (IOS)
Test with other people (+Feedback)
Fix/Improve where necessary
Build for Android & IOS
Submit to store for approval
There's still a fair amount of work left, and plenty of room to run into problems. I'm already aware of a few bugs and I'm expecting to find a few more yet. However, all in all I'm pretty confident we've got this! Only one way to find out…
Until next time…